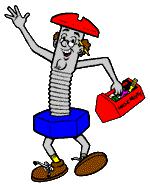 Uncle Nutty
Welcome to The Nutty Company Online Store!
Brick & Mortar since 1977; Click & Order since 1996
Since 1977 The Nutty Company, Inc. has been a leading supplier of fasteners, hardware and accessories including nuts, bolts, screws, washers, rivets, threaded rod, masonry anchors, tools, and chemicals to the construction, commercial, and manufacturing industries throughout the world. Our products come in a variety of materials including steel, stainless steel, brass, nylon, alloy and galvanized. We stock both standard U.S. and metric sizes.
We service schools, factories, garages, hospitals, municipalities, R & D labs, home owners, boat owners, construction firms, manufacturing plants, machine fabricators, welders, water treatment plants, boating industry, auto and motorcycle enthusiasts, and many more.
At The Nutty Company, Inc. you can always expect quick quotes, quality products, prompt deliveries, fair prices, and courteous service.
Thanks for shopping with us!